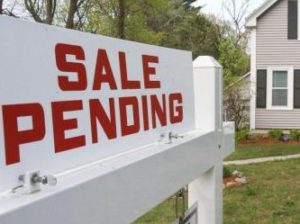 So you've fallen in love with a home, but the "For Sale" sign has been modified with the phrase "Pending Sale," or the internet listing notes that the property sale is "Contingent." If you're unfamiliar with the phrases, your initial reaction may be that the home is no longer available. Not necessarily!
A property that is showing as "pending" shouldn't be ruled out until you make an offer. You never know if a home sale is going to fall through for one reason or another: the potential buyer may not be able to get the loan, or may be relying on the sale of another residence.
Here are some factors you need to consider when deciding if a "sale pending" home is worth the pursuit:

Understanding "Subject to" and "Contingent Upon"
In order to understand what "sale pending" means, it helps to understand how a typical real estate transaction works. A buyer will make an offer subject to a property inspection, bank appraisal, or through full loan approval. They can also make it contingent upon selling their current home. Because this a contract agreement a seller can exit the sale provided that one or more of the duties of the seller is not met.

A property with a deal on it may still be for sale.
In some areas, real estate agents may label a home with some kind of contingency on it – this way, another potential buyer is aware that the deal is not closed. If the pending deal falls through and a seller already has another offer, they will be able to go from one deal to another, saving them the work of starting over.

No more contingencies means "Sale Pending"
This is a deal that is truly pending, where the buyer at this point is truly locked into buying the home. The final step is to move towards the closing, which can take a few days to a few weeks. Most agents won't label anything pending until the sale is a done deal, and it is pending that the home is closing.
Can a buyer still walk away after removing everything? Yes, but it is not as likely. Occasionally, a buyer has an emergency or something that pops up and they need to exit the contract agreement. However, a buyer would also risk their money that they deposited during the sale.

Find out the property's status
Ask these questions: has the buyer had an inspection done? Did the inspection go well? Have your agent ask the listing agent these questions to understand what the true status is. Doing this will help you understand if there is still a potential opportunity to make an offer. It will also give the seller(s) some leverage because they have another offer that is ready to step in should this deal fall apart at some point. In the change with today's markets, more rigid lending policies are causing some deals to fall apart. A smart agent will make their customers' deal known to the sellers.
Contributed by James Link

SetSchedule has changed the way real estate marketing is viewed, by changing the way REALTORS® access clients and listing appointments. SetSchedule is a "first of its' kind" exclusive membership based model that provides verified appointments, marketing tools, and elite invite only networking events for its members. By blending new technologies, and thought processes with proven success methods SetSchedule had incurred record producing results unseen in the industry