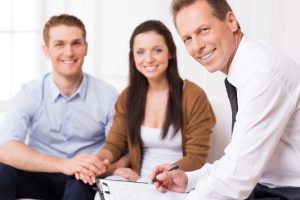 If you have borrowed money in the past and followed the proper payment structure, then the odds are that you are still in good standing. This means that when your credit is checked during the time you apply for a mortgage, the chances for refusal are low. Some lenders will just take your word as to how much you make; since the economic downturn, however, more lenders are requiring full verification of your income.
Nevertheless, a large number of mortgages are still made with "stated income" loan applications. These require less paperwork and time, which speeds up the process of getting a loan. A stated income application in general doesn't require any written verification for income or tax returns. However, mortgage lenders do not make these types of applications available to everyone — as a lender, you must be in good standing and a strong borrower.
Most borrowers who get these applications are refinancing with a good amount of equity in their home or were buying the home with a solid down payment. Lenders welcomed these types of applications because of high credit score along with high equity, which is required with the typical, application process. Stated Income loans are really helpful for a self-employed person. These are people without pay stubs or W-2 statements that are easily available for check. While a stated income application makes the loan process easier, there is a lot of misinformation about it. This results in missed opportunities where one might be better served with a different kind of loan application.
As a borrower you need to know the type of application that you are getting. There are many different types, and the differences with them can be important to the individual who is borrowing. Ask about such things as speed, possible cost, the need for accuracy and tax records. With a better understanding on the loan application process you the borrower can make better choices. Now to answer the question: is a stated income application for you? Here are 5 issues to consider.