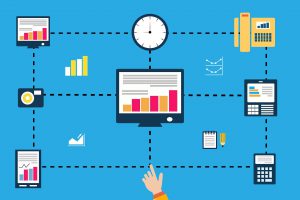 For successful agents, real estate is a full time job with many moving parts. Between fielding referrals, drumming up new business and overseeing compliance on various transactions, time quickly becomes scarce. Luckily the tech industry has taken notice of this and stepped in with countless solutions for agents to maximize their time. Below we have compiled a list of 5 types of tech for real estate agents that you can harness to boost your efficiency.
Video messaging

In the world of real estate prospecting, especially when prospecting online real estate leads, it is important for an agent to stand out from their competition. The best way to do this is to make a human connection with your prospect so you can build rapport. Video messaging is great tech for real estate agents because it allows you to cut through the traffic of dozens of other agents who are likely also reaching out to your prospect. You can use services like BombBomb to craft a short video introduction so your prospects can get a feel for you, your confidence and your knowledge. Anyone can craft a well written email or interest grabbing text, but not every agent can speak in an informative and engaging manner that compels trust from prospects. If you are good on camera or have a natural way with people, take advantage of that by utilizing video messaging tools.

CRM

A customer relationship management tool, or CRM, is arguably the most important piece of tech for real estate agents in 2020. Gone are the days of tracking prospects in a rolodex or spreadsheet. Nowadays, CRMs are designed to be completely customizable and allow for multiple workflows. This means you can outline several conditions and craft outreach based on those conditions. For example, you can craft a certain email you want sent to prospects who have opened your emails but never responded. Once you set up these conditions in your CRM and draft the corresponding outreach, then from there you just have to enter your new leads into your CRM and let it take care of the rest. This is one example of automation and harnessing this type of tech for real estate agents will save you time exponentially.

Smart speakers

Assistants can be considered the backbone of any successful industry. While the people in charge make decisions, it is typically the assistants who carry out these decisions and ensure everything goes according to plan. If you're not in a place yet to hire an assistant, then the next best thing is smart speakers. Most people are familiar with smart speakers as tools that power houses, but smart speakers can also be a valuable piece of tech for real estate agents as well. You can use smart speakers to find answers like the median income for a certain neighborhood or zip code, the closest public schools to an address or what the weather will be like later the week when you plan to go door knocking. Smart speakers can also help you maintain your calendar and alert you to scheduling conflicts.

3-D Printing

One of the most interesting new tech for real estate agents is 3-D printing and this technology is just now being adapted to the real estate industry. It is mostly utilized in instances when agents are selling properties that haven't been built or properties that will require extensive renovations. By incorporating 3-D printers, agents are able to provide prospects with a visual representation and model that will allow them to more easily understand all the intricacies of a proposed project. All you need are the CAD files for a new or renovated home and a 3-D printer, which are available for purchase or rental. 

Mileage trackers

While this isn't a technology that will help you close more transactions per se, it is a piece of tech for real estate agents that will save you money and time in the long run. Given that real estate agents spend an exorbitant amount of time driving, their cars quickly rack up miles that could be tax-deductible. Rather than spending time at the end of the month trying to retrace your routes, download an app like MileIQ which uses your phone's GPS to track and log your tax-deductible business mileage. A PDF which breaks down the personal versus the business mileage will be automatically forwarded to you at the end of the month which can be provided to your accountant to help them get you the most return when filing your taxes.
Tech for real estate agents has come a long way in the last years. Now agents can utilize various features and technologies to optimize their sales cycle and increase their personal business efficiency. Next time you find yourself low on time and feeling like you are working constantly but not getting anywhere, take a look at some of the tech for real estate agents available to see if they can help you maximize your most important resource – your time.