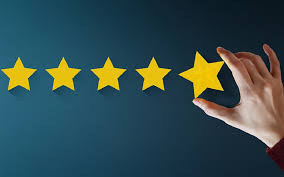 Word-of-mouth testimonials have served as meaningful sources of consumer engagement since the dawn of industry. What your customers say about your business to other people matters. This is possibly true now more than ever as advances in social media allow businesses to harness their online reputation to boost brand awareness, inspire customer loyalty and attract new consumers. At the same time, these same advances open potential vulnerabilities for a business when the review(s) in question prove unflattering. Research has shown that upwards of 90% of online consumers report avoiding a business after reading bad reviews. 
Obviously, in this day and age, anyone can comment at any time about anything on many social media platforms. There is something to be said about leaving an opinion in print. Despite the source, or credibility of the review, reviews can change the way you perceive a business. And since it is virtually impossible to be a successful company today without operating in the digital realm, at least in small part, your online reputation matters. Bad reviews can close a company's doors before they are even open and leave new established businesses vulnerable to consumer slowdowns. Being a technology and data company that services the real estate communities, SetSchedule is no stranger to the online review. Since SetSchedule's online presence inevitably impacts our consumer engagement, it is important that we take action toward a resolution. Below is SetSchedule's strategy of evaluating, responding to and evolving from negative reviews.
Evaluate the negative reviews
Bad reviews sting even the most seasoned business professionals. Objectively you understand that no one can please everyone, but nonetheless when faced with a bad review your instinct will often be to deflect (blame the customer for their bad experience), dismiss (I don't care what anyone says about my business) or wallow (ruminating on your perceived failure). None of these are helpful responses. Instead, try to remain empathetic yet detached when evaluating your reviews. Try to notice patterns in both your positive and your negative reviews, and let go of the outliers. There will always be extremes and isolated incidents which can be easily identified and resolved internally. But more important are the recurring themes in SetSchedule's negative reviews. These are invaluable insights into where our service might be lacking and how to improve. 
Respond to negative reviews
Whether a review is good or bad, behind that review is a person who took time out of their day to write about your company. SetSchedule remains grateful for all reviews – the good, the bad and the ugly. One predominant way we show this gratitude is by responding to each and every review. Above all else, reviews should be treated as business indicators – indicating what you are doing right and what you are doing wrong. Social media has brought the power to receive instantaneous customer feedback and if responded to with gratitude first and foremost, this feedback can be harnessed to boost your business to new heights. 
Evolve from your negative reviews
The final step in SetSchedule's approach to negative reviews is to evolve. I just explained how reviews function as roadmaps guiding your business on a path to success. Now it's up to you to incorporate those reviews into your business model. Once you identify patterns in your negative reviews, you next have to plan how to overcome these points of friction. Do your employees need more training? Do you need to invest in infrastructure? Do you need to modify the service you offer? Growth only occurs in a state of discomfort so it's up to you to use your reviews like a roadmap and pilot your business accordingly.
Bonus Tip:
Research is showing that more positive reviews are appearing online. Meaning online forums are becoming less a place to complain and more a place to recommend businesses. However, consumers are still more likely to leave a review after a negative experience than a positive one. This means it is increasingly important that you remember to ask your happy customers to leave reviews too. What's more, it is important to follow up with those customers and encourage them to leave those glowing testimonials. Subscribe to YouTube.com/setschedule for more videos on how to handle negative reviews and stay positive in the face of rejection. To learn more, CLICK HERE to read an article from Follow Up Boss on the importance of reviews for generating new business!