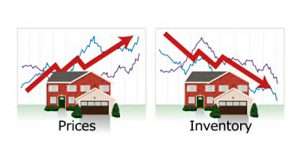 Real Estate Inventory and Market Trends continues to be highly volatile and is largely regionally based. This volatility can be seen in different areas around the country and is ultimately driven by supply and demand of real estate types and location. Remember the adage in real estate? Location…location…location…. This continues to factor heavily in whether homes are purchased or sit on the market. This blog considers other factors impacting market trends and real estate inventory.
The first trend that needs to be considered is economic volatility, which should be considered regarding cycles. Cycles can be long-term or short-term and involves historical guidelines as well as current market factors. The most recent real estate market downturn occurred as a result of the recent recession. The recession continues to play a significant role in attitudes and fears. Many homes were lost as a result of the market downturn. The recession created a situation that left premium home buyers with the greatest leverage. Many entry-level homeowners will not be selling or moving up in the housing market anytime soon because the perceived risks far outweigh the size increase that would happen if they traded up into a mid-level home. It would take skill and effort to convince this type of homeowner to give up their "good deal" for a risk, especially in some regions of the U.S. where the economy has not recovered as elegantly.
Moreover, any decrease in beginner homeownership is primarily due to the homes that were lost and are now owned by investors who renovated and turned them into apartments or rentals. This type of buyer has turned into hit television shows on HGTV. While some more seasoned homeowners decided to weather the recession and kept their homes and now owe more on the home than it is worth.  This crisis has affected the three inventory categories but it is mainly the beginner have taken the biggest hit.
Here are a few statistics to consider:Read More