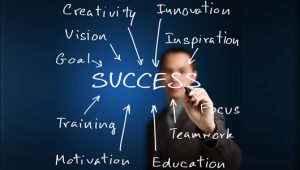 By James Link:
As we all know, an entrepreneur is a person that organizes and operates a business or enterprise and often takes on their own financial risks. Successful entrepreneurs must continually hold 20 essential concepts in order to be successful in business. These 5 essential concepts include: Finance, Vision, Professional Expertise, and Personal Responsibility, to develop Habits of Success. Let's look at the Habits of Success for the happening entrepreneur in each of these areas. The most important habit involved in entrepreneurialism is finance. Without financial backing, knowledge, tools, or understanding concerning money; most entrepreneurs won't be able to even start their business venture. Start-ups cost a lot of money, especially when the individual is marketing a new invention. There are design costs, manufacturing fees, production assets, and delivery entitlements that all must be considered. Here are some financial considerations that the successful entrepreneur implements to grow their business;
They scope work appropriately and are mindful of budget. Successful entrepreneurs understand that as sole proprietors they must keep track of their checkbook. They scope work properly and keep track of the bottom line. Money is vital.

They hire well. Successful entrepreneurs look at the potential employee's background as well as their attitude to determine if they would be a positive contributor.

They know time is money. Good entrepreneurs will not set up a long business related meeting at the last minute or one hour before everyone is set to go home. Successful entrepreneurs also leverage technology effectively. They use virtual meetings, shared, open work spaces, or work-from-home conditions to save time and money.

They set priorities knowingly. Entrepreneurs have good time management skills. Entrepreneurs know what is more important; a business meeting that takes day or a holiday party at the end of the year. And, sometimes the holiday party makes more sense especially when trying to win new business. Entrepreneurs know when to spend money in order to make money.

They strive for excellence. Effective entrepreneurs have a great idea and are able to implement it, because they have the business acumen and excellence. These are all cost savings and money making ventures that are driven by hard work, diligence, and excellence. They want to do it right the first time!
Successful entrepreneurs see. These special individuals have a vision in their head and are dedicated to making that vision reality. This idea could be an invention or a new way of thinking and doing business. They are visionaries.
They operate from a strong vision. Entrepreneurs share their vision for future plans. Entrepreneurs also set good goals and objectives for their employees.

They are decisive. Their solid vision enables them to make decisions and remain calm under pressure. In their mind, this special breed understands what it takes to move forward.

They communicate articulately. Entrepreneurs must be able to effectively communicate what is expected without showing nervousness. This doesn't mean they are not nervous, but it does mean they are bold.

They share information. Entrepreneurs willingly share the pros and cons of their business model and do so in a way that attracts investors and followers.

They pull people together to get behind the vision. Entrepreneurs need to be able to get employees together for meetings or other special events.
Successful entrepreneurs develop expertise and often know all of the parts of a certain business.
They have expertise. They use this expertise to propel their vision and expand their sphere of influence.

They delegate appropriately. After they begin the venture, entrepreneurs involve other people or services and acquire the expertise of these individuals and the service provided.

They know how to market their ideas successfully. They attend to social media and other marketing concepts to grow their impact.

They work all of the time. Entrepreneurs have a very strong work ethic. They never rest, and they work all the time.
Successful entrepreneurs take personal responsibility for the success of their venture. As a result, they have the following habits:
They offer praise to others. Entrepreneurs who are serious about their company and care about their workers will give annual performance reviews and meet often.

They show gratitude to their employees. Entrepreneurs know that their employees make stuff happen in the end and make sure that everything comes together.

They accept blame. Sometimes, entrepreneurs will take blame when the numbers for a project comes up short. Entrepreneurs learn to accept these differences and move the team forward onto the next project or opportunity.

They have a sense of humor. Entrepreneurs typically develop a sense of humor. When things don't go right, they learn to laugh at the situation.

They have good ethics. Entrepreneurs have a reputation to develop and maintain. A strong ethical compass enables them to develop and maintain a good reputation.

They celebrate wins. Entrepreneurs know to celebrate wins, because they want to win, and they want others to win, as well.
These 20 Habits of Success enable entrepreneurs to nurture the cool ideas that will enable them to flourish and expand in a rapidly changing marketplace to master their goals every day. SetSchedule has changed the way real estate marketing is viewed, by changing the way REALTORS® access clients and listing appointments. SetSchedule is a "first of its' kind" exclusive membership based model that provides verified appointments, marketing tools, and elite invite only networking events for its members. By blending new technologies, and thought processes with proven success methods SetSchedule had incurred record producing results unseen in the industry.