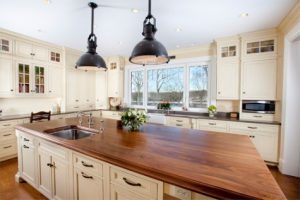 When you first close on your first home, your likely first automatic reaction will be to start renovating some aspects of the home to what you like. There are always ways to make improvements and update old to new. However, always remember that while you may want to renovate, there is always a possibility that you may not have the budget to renovate in every way that you want. One recommendation is to get some wiggle room in the sales price to be able to afford some of the renovations that will uniquely update your new home in ways you love. Think ahead. Negotiate. Stay committed to your personal brand of excellence, because this will help you when you decide to sell. Here are 20 Room Makeover Ideas for Under $1000 to upgrade your new home in no time.
Kitchen Makeover Ideas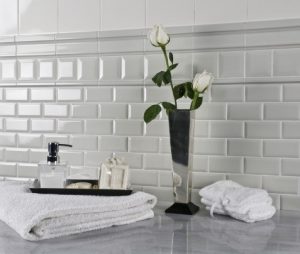 A New Backsplash We love Subway Tile! Of course, it reminds us of New York, but it is just a cool update. Overall, Subway Tile seems to be one of the best for kitchen remodels, because it is modern, clean and can be found in other colors besides white. It is very budget-friendly for the average first time homeowner and also gives the kitchen a very good modern design.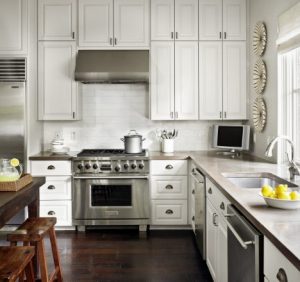 Replacing or Refinishing Cabinets Depending on the age of your kitchen in your home, it may be a good idea to refinish or even replace the cabinets in your home. Old wood often looks dirty and old. Refinishing your cabinets is also a viable option as this only requires getting paint or wood stain that will help the cabinets. However, there are also options in antique shops such as stained glass that can be used. There are a lot of options that you can use for the cabinets. We prefer white, because it shows the dirt and makes it easier to clean, and white can really freshen up old wood quickly and cost-effectively. Open Shelving Some people do not like having to re-stain, repaint or cleaning glass. The idea of open shelving allows homeowners to remove old, outdated cabinet doors to create a more modern kitchen by opening the shelves up and just leaving the glass wear or dishes inside them able to be completely seen. This can happen for well under $1,000. And if the homeowner chooses to incorporate this look from scratch, it still proves to be a cost-effective and classy way to incorporate an updated look by adding color, wall paper or fabric inlays while emphasizing easy access to display interesting collections.
Install Overhead Lighting Chances are if you have just bought a house you more than likely will want to update the lighting fixtures. Pendant lighting is an increasingly elegant style that is in demand to create an appealing, urban, updated look. Additionally, pendant lighting is cost-saving in the long-run, because dimmer switches enable homeowners to integrate effective methods to save electricity. Pendant lights can be installed easily and efficiently, and while these add an efficient light source to the kitchen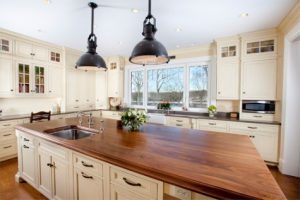 Replace Countertops While quarts, granite, and marble countertops are very nice to look at, they may not be in your budget depending on how much you have paid for your home and your budget for renovation. Two cost effective options to replace countertops for under $1000 are either stained wood or white tile. While there are look-alikes for some of the more expensive finishes, the two aforementioned finishes look more organic and if treated well remain lasting and elegant. However, if you absolutely must have the nice countertops there are higher end countertop knock-offs; there are many options available.
Living Room Updates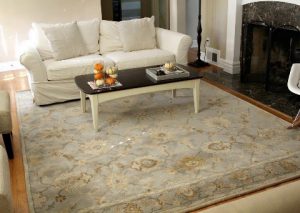 Area Rugs If you want to separate a large space covered with laminate floor, then adding a beautiful rug can solve this problem. You would easily be able to find a cost effective rug for well under $1000. A rug is also something that can be moved around especially if the decision is made to change the area. An area rug is also an excellent way to combine room accents and soften a room with attractive décor. Rugs often look a lot more expensive than the actual cost, so be sure and look around and price them out.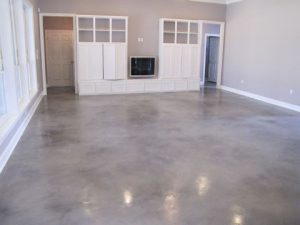 Concrete Floors One of our favorite finishes is stained concrete flooring. Cost effective, stained concrete looks elegant, modern, and gives a room an industrial-urban appeal. This is one of those finishes that looks very expensive and can be stained or texturized to look like Italian marble or quartz. It is also highly durable and easy to clean, which makes it a winner as an expensive renovation. Be careful though if you drop a glass or a wine bottle. No soft landings here. Built-Ins If you are short on space and storage, then adding built-ins like the ones you see above would be a cost-effective solution. You can see how nice these particular built-ins look with the marbleized cement floor. Plus, if you have a small space, built-ins are an excellent place to hide stuff. Wink. Wink.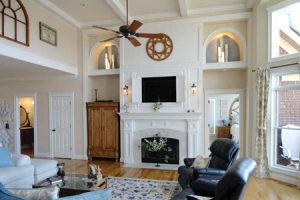 Resurface a Fireplace Old brick for old fireplaces is out. Who knew? People don't always like the red brick that some fireplaces have, and painting the brick or putting a different kind of substance on the fireplace can add a different character to the existing fireplace. If you want to create a brick accent such as the tip we expose next, then you could carefully remove that old brick from the fireplace and set it aside. Then investigate different surfaces for renovation. We like built-ins that would add to the built-ins that we mentioned above. Cement that would also correspond with the flooring that you have just finished would also work. So many options. Expose Old Brick as an Architectural Detail So now you have the old brick from the fireplace that you have just renovated, use the brick to make a stunning exposed brick wall accent. Again, we love the urban appeal that is offered through this type of accent. If you happen to live in a place where you can renovate to expose old brick; this is a timely nod to lasting elegance. We like this image, because you can see the cement floor and brick-accent wall. Sliding Barn Doors Sliding barn doors are attractive and rustic without the hassle of a costly installation. We like them because this accent item saves space, because, well…, they slide; this accent feature doesn't open into a room. This accent feature is something that more and more people are starting to buy. They look good, because they add color and pizzazz and at the same time, they can be hung from a bracket along the door system and simply slide on the track.
Bathroom Updates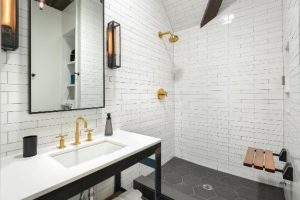 Retile Outdated Bathrooms Chances are that while outdated tile may have passed the general inspection needed to be sold; the tile may not be in the best shape. Bathroom tile tends to be a habitable location for mold and grime. This would signal the perfect time to take out the tile and replace it with a friendlier and less germ-friendly solution. There are a lot of different types that can be used. If you live in a climate where it gets cold in the winter, you may even consider adding a heating element under the tile so when you go in on a cold morning it will be will be warm. Lots of options are available for under $1,000 that are not your grandma's pink. Again, we love Subway tile, especially if you want to carry forward the look and feel of the Subway Tile in your kitchen and save a little extra by buying in bulk. Replace the Vanity If your vanity is not in the best of shape after a number of years you may decide to install a new one. You can see by the image above that there are some excellent alternatives to permanent built-ins. These look elegant and modern.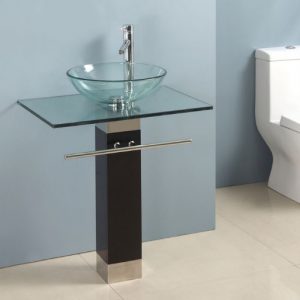 Purchase a Pedestal Sink If you are renovating a couple of bathrooms and want to carry through the look and feel of the other bathroom, or if you are working with a very small space; consider a pedestal sink or a bowl sink. The idea of adding a bowl sink offers up the possibility of adding a dash of color to an all-white space, as well. You can see the pedestal is very small and would work well in a small space.
Curb Appeal Ideas
Resurface the Drive-Way We like the idea of mixing indoor and outdoor accents to carry the look and feel of décor and materials. Resurfacing the drive-way with a similar look and feel that was used with the living room concrete, for example, would be an excellent way to buy in bulk and improve two of your spaces using the same materials. The other practical advantage to resurfacing a drive-way is also to eliminate cracks or uneven textures that are problematic due to weathering and age.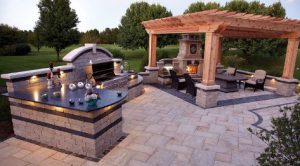 Create an Elegant Outdoor Space So you have refinished your living room and drive-way with concrete and have a little left over. We love the idea of creating an elegant outdoor space to increase the size of your overall living space. There are so many excellent options for investing in this type of space through small investments. Start with using your leftover concrete to intermingle themes. Add gorgeous patio furniture. Invest in a high-efficient, yet elegant grill. Invest in and take care of young plants that will grow to fill the space. Eventually create an outdoor kitchen. Yes, keep your budget in mind. This type of feature grows with time and through your well-managed investment. We are inspired by the image that you see here, but we all have to start somewhere. Topiaries Adding some green shrubs with their lively shapes that have flowers blooming in the spring and summer will add beauty and excitement, as well as curb appeal to your home. Add topiaries to your elegant outdoor space for additional charm. These elephants might be extreme topiaries and are outside of your budget, but still are an attractive thought for the right yard. Water Feature We love the idea of the water feature with a few Koi swimming around elegantly. But, fish might not be for everyone. So, consider the idea of a small backyard water fall or a refreshing water wall. This could easily augment and improve your outdoor living space if you choose. Consider small increments toward continual progress. Think of small ways to make improvements on a budget and then continually add as your budget allows. We love this one because you can add pretty lights to improve the feature even more.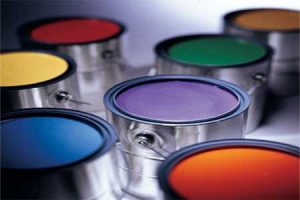 Paint, Paint, and Repaint Your Deck Paint (done well) is a consistent way to upgrade, clean-up, repair, and rejuvenate old, tired décor in a way that is updated and attractive. For a clean, green look and feel, go to the home center and buy paint that is made of composite. This does cost a little bit more; however, it is worth the cost of buying composite over having to paint a wood deck every few years. Paint, Paint, and Repaint Your Home Every first time homeowner has an idea of how their first home should look and the type of paint they want. If you happen to buy your home and, the color does not match what you want then repaint it. This is something that can be done yourself or you can hire a paint company to do it on a budget. Choose a color that is easy on the eye and one that is NOT too extravagant or inappropriate for the neighborhood. For example, Pepto-Bismol pink is NOT recommended. It is okay for the home to standout; however, don't go to overboard on the color. Also, before you repaint if your home is in a HOA area, make sure that you get approval on the type of paint you want. Painting the wrong colors in a HOA area can result in heavy penalties and having to repaint. Contributed by James Link Setschedule has changed the way real estate marketing is viewed, by changing the way REALTORS® access clients and listing appointments. SetSchedule is a "first of its' kind" exclusive membership based model that provides verified appointments, marketing tools, and elite invite only networking events for its members. By blending new technologies, and thought processes with proven success methods Setschedule had incurred record producing results unseen in the industry.