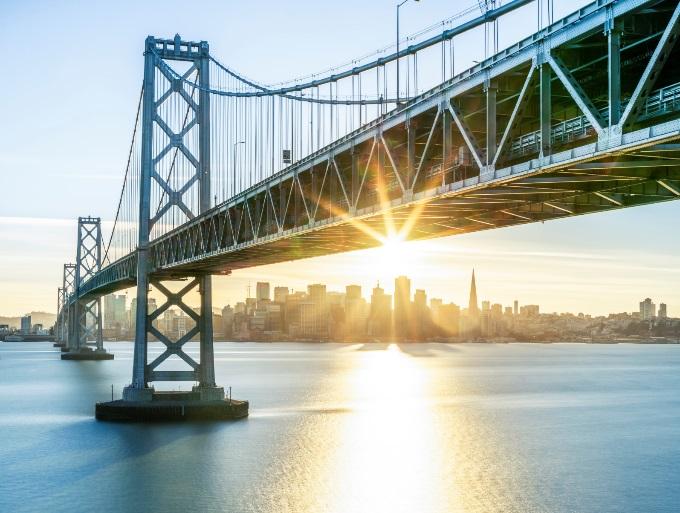 A lot has been said about Millennials struggling to put together a down payment on a home after carrying student loan debt. However, there is still a sizable portion of this demographic who are financially secure and ready to pursue homeownership. In technology-driven fields like data analysis or digital heavy industries like advertising, this computer savvy generation is in demand and making salaries that allow them to live comfortably. The question is, where are they taking their dollars? For living, the Y-Generation likes areas that are safe but have an active nightlife, a robust economy of startups, and lots of events, like festivals, to enjoy. Unsurprisingly, several California cities fit the bill. Here are the top 10 areas where affluent Millennials are living:
San Francisco, CA
With lots of tech jobs, the digital natives of the Millennial generation are right at home here. Tech startups and other large companies headquartered here mean plenty of high-paying positions.
San Jose, CA
San Jose is another California tech hub, but it also has a strong solar energy industry, meaning jobs available in an up-and-coming sector. Lower costs of living than San Francisco also make San Jose an attractive place to live.
New York City, NY
The Big Apple is well known for its abundant marketing firms as well as Wall Street, offering opportunities for the creative types as well as the finance workers.
Seattle, WA
Seattle is becoming the next San Francisco, with the large list of tech businesses and software companies. Although the cost of living, particularly housing, is beginning to rise accordingly, it's still cheaper than San Francisco. In San Francisco the average rent is $4500 a month, whereas in Seattle you will only be spending $2700 on average.
Denver, CO
This is an area where Millennials are moving and carving out a niche for themselves with startups and jobs in emerging industries, including - again - tech. Many are starting with their own small firms and building them up to compete with other industry leaders.
Arlington, VA
Like New York City, Arlington has a strong marketing and publishing sector, but is less well-known than NYC, which can be an advantage if you're just starting out and want to differentiate yourself.
Washington, D.C.
The nation's capital is home to many young marketing, consulting and digital media startups owned by Millennial-aged entrepreneurs. While these smaller companies face stiff competition from more established businesses, many are thriving nonetheless.
Sunnyvale, CA
Sunnyvale is another area in the Silicon Valley that is ripe for startups.
Newport Beach, CA
This exclusive beach-side community attracts a lot of Millennial entrepreneurs looking for an alternative to the Bay area or Silicon Valley.
Irvine, CA
SetSchedule will be first in line to sing the praises of its California hometown! Irvine is a place of endless opportunity, not just for young people but anyone willing to go find it or, failing that, create their own opportunities. Walking and bike trails make it easy to get around the area, and the beautiful SoCal weather ensures that commuting by bike or by foot is a feasible alternative most days. Contributed by James Link SetSchedule has changed the way real estate marketing is viewed, by changing the way REALTORS® access clients and listing appointments. SetSchedule is a "first of its' kind" exclusive membership based model that provides verified appointments, marketing tools, and elite invite-only networking events for its members. By blending new technologies, and thought processes with proven success methods SetSchedule had incurred record producing results unseen in the industry.