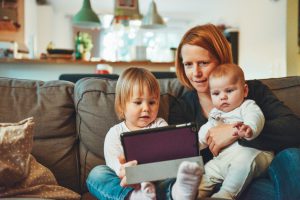 Virtual reality has become the new wave of interactive technology. From immersive video games and mesmerizing movie experiences to realistic medical and military training, virtual reality is being used across a multitude of platforms as an everyday resource. Virtual reality has even begun to make its way into the real estate industry, especially in the form of virtual home walkthroughs.
Virtual walkthroughs are becoming an effective tool that is easily available to home shoppers via mobile and desktop devices. Especially now during the COVID-19 pandemic that has put a hold on the in-person aspect of the home buying and selling process, offering a virtual walkthrough of a property is an excellent substitute for hosting an open house. The question is: will virtual walkthroughs exist as a valuable tool after the social distancing rules are over? The answer is yes! - and here's why.
First of all, what is a virtual walkthrough?
Virtual walkthroughs allow home shoppers to tour every part of a home, room to room, from anywhere just by using their mobile or desktop device. The virtual reality aspect of the tour is what sets it apart from just viewing images and street-view stills of a home. Instead, shoppers can immerse themselves in the home as many walkthroughs use an interactive, 3-D tour model. Websites like Zillow and Trulia offer virtual walkthrough tours for nearly every home!
What are the benefits of a virtual walkthrough?
With the current social climate due to COVID-19 and the restrictions put in place by local governments, touring a home in-person or visiting an open house is unlikely. Luckily, virtual walkthroughs can give you nearly the same experience plus additional benefits.
No pressure. Taking a virtual walkthrough of a property from the comfort of your own home allows you the flexibility to take your time when checking out every room of the house. Plus, there's no homeowner or real estate agent present while you check out the home, so you can take in every detail without any pressure to commit.

Take your time. There's no need to work a showing or open house into your schedule with a virtual walkthrough - they are available to you day or night! Revisit the virtual walkthrough 100 times if you'd like, and see as many homes in one day as you want without worrying about driving around to make it to your next appointment.

Get organized. Using online resources like home shopper websites can help you keep your favorite houses all in one place. Save homes, leave notes, and revisit your favorite virtual walkthroughs so you can remember every little detail about your potential new home.

Sellers can stay home. If you're still living in your home that is listed for sale, you know how much of a hassle it can be to keep the house clean and leaving during open houses or private showings. Luckily, virtual walkthroughs are not live - which means you can stay home and stay safe while still presenting your home in its best light!
How can I take a virtual walkthrough?
You can find virtual walkthroughs for almost any home on sites like Zillow and Trulia. With the world embracing virtual reality experiences, you can expect to access virtual walkthroughs on almost every real estate shopper website in the near future. If the home you've got your eye on does not yet have a virtual walkthrough available, contact a real estate agent today to see your options.