You can be forgiven if you have not already heard of the name Roy Dekel before today, but it is a name you should definitely watch out for. Described by some as the 'Elon Musk of Real Estate', Roy Dekel as CEO of Setschedule is revolutionizing the real estate industry in much the same way Elon Musk is changing the electric car industry. But the similarities do not stop there. Much like Elon, Roy is a keen philanthropist who has used his years of success and high-level experience to personally support, assist and contribute to, a number of local and worldwide charities.
Who is Roy Dekel?
Born in Israel, Roy moved to California in 2002 having spent five years serving with honours in the Israeli military. It's no secret that one of the reasons Israel, considered THE start-up nation, produces the highest volume of start-ups per capita, is because of the army. Having enjoyed considerable professional success with The Windows Company, Roy Dekel was appointed president for the DCH Home Development Company, a position in which he excelled for six years. Following on from there, the success continued as CEO of the CA Merchant & Investment Group. However, it was the founding and as CEO of Setschedule, that has seen Roy Dekel change the face of the Real Estate industry forever.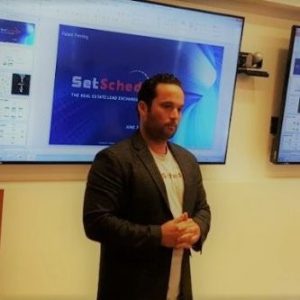 What is Setschedule?
Founded in 2016 and headquartered in Irvine, California, Setschedule is built around ground-breaking technology which provides the first and only on-demand Real Estate Marketplace connecting home buyers, sellers, renters and investors with local reputable Real Estate Professionals. With a network approaching 3000 real estate agents, Setsechedule revolutionizes the way in which home sellers and home buyers can connect. The creation of an appointment management system has enabled the smooth, efficient and cost-saving sales of thousands of homes across the US.
Always at the forefront of technology Setschedule recently launched the new SetValue® tool, which provides an estimated property home value based on extensive research and data using a host of comprehensive resources and the same cutting edge technology that has made Setschedule such a runaway success.
Roy Dekel Philanthropy and Setschedule Charity Work
From an early age, the sense of community and giving back has been instilled in Roy Dekel. Throughout the years, Roy has been a proud supporter and donor to a number of local and community-based charities, particularly Larger than Life — L.A. Family, an organization committed to improving the lives of children suffering from cancer or terminal illness. Despite the success, Roy has never forgotten his roots and has proven to be an energetic and respected leader of the local Jewish community as well as a committed patron of the Israeli American Council (IAC) and the American Technion Society (ATS).
Through the Setschedule Cares Foundation that Roy Dekel founded in 2017, over $30,000 has been raised so far through matching employee and volunteer time, with plans afoot to raise at least $1.5 million by 2020 for the benefit of over 19,000 charities.