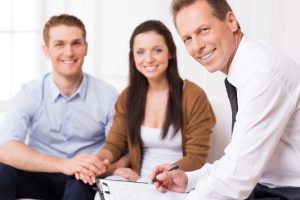 If you have borrowed money in the past and followed the proper payment structure, then the odds are that you are still in good standing. This means that when your credit is checked during the time you apply for a mortgage, the chances for refusal are low. Some lenders will just take your word as to how much you make; since the economic downturn, however, more lenders are requiring full verification of your income. Nevertheless, a large number of mortgages are still made with "stated income" loan applications. These require less paperwork and time, which speeds up the process of getting a loan. A stated income application in general doesn't require any written verification for income or tax returns. However, mortgage lenders do not make these types of applications available to everyone -- as a lender, you must be in good standing and a strong borrower. Most borrowers who get these applications are refinancing with a good amount of equity in their home or were buying the home with a solid down payment. Lenders welcomed these types of applications because of high credit score along with high equity, which is required with the typical, application process. Stated Income loans are really helpful for a self-employed person. These are people without pay stubs or W-2 statements that are easily available for check. While a stated income application makes the loan process easier, there is a lot of misinformation about it. This results in missed opportunities where one might be better served with a different kind of loan application. As a borrower you need to know the type of application that you are getting. There are many different types, and the differences with them can be important to the individual who is borrowing. Ask about such things as speed, possible cost, the need for accuracy and tax records. With a better understanding on the loan application process you the borrower can make better choices. Now to answer the question: is a stated income application for you? Here are 5 issues to consider.
Not all "stated income" loan applications are alike
The term "Stated Income" is generally used as a similar expression with the "no doc" loan. There are many different loan application formats with different requirements.
Stated income loans may cost more
While these loans are reserved for those with good down payments, solid credit, and a significant in equity, none of those factors change the fact that it is risky to finance someone. Stated income loans are the much riskier to most lenders than the other types available.
Stated income claims may be checked
While they are not checked as often, they can still be checked. Don't think that this is an invitation to claim that you make $200K a year when you don't make that much. Honesty in applying for a loan will help you a lot in the long run.
You need current and proper tax records
A lender will NOT knowingly give an applicant a loan if their tax files have failed to return or claims income that they have not claimed. This is because when a property is financed, the loan is secured by the property. A mortgage lender will typically have a first or second lien if a property is sold, as a foreclosure, then the entire first loan of the home must be paid before the second one.
A stated income loan application will save you time. But do you need to save so much time?
How will you benefit from quicker processing? It is generally unlikely that the seller will want to make an agreement next week. A buyer needs time to pack, move and often times sell the residence to which they reside now. A seller wants time to do the same thing. Being able to process more quickly may not always be an advantage. Contributor James Link SetSchedule has changed the way real estate marketing is viewed, by changing the way REALTORS® access clients and listing appointments. SetSchedule is a "first of its' kind" exclusive membership based model that provides verified appointments, marketing tools, and elite invite only networking events for its members. By blending new technologies, and thought processes with proven success methods SetSchedule had incurred record producing results unseen in the industry.